It is not safe to change your eye colour for cosmetic purposes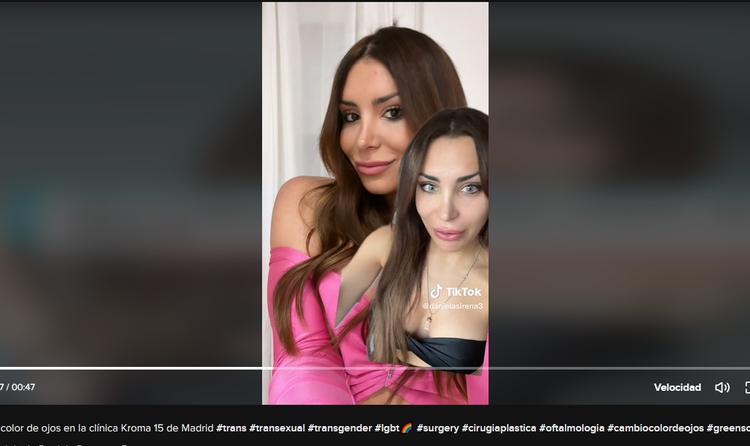 The intervention is discouraged due to lack of studies and the secondary effects observed in some patients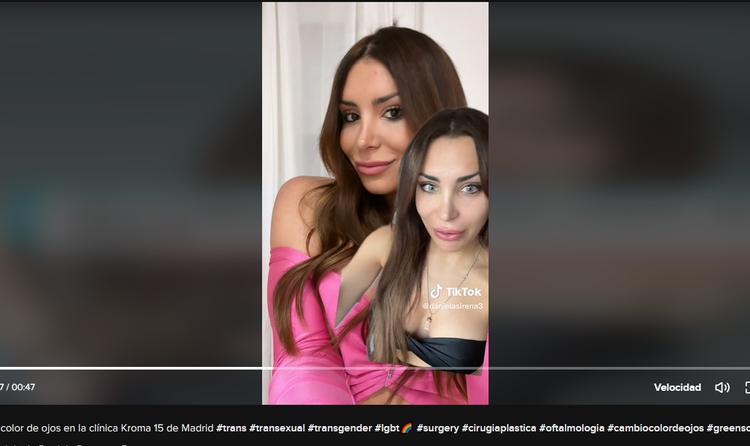 Two weeks ago a video by an influencer with over 817,000 followers on TikTok went viral in which she shows her latest operation: this time to change the colour of her eyes. In this viral TikTok video, the influencer claims that "this practice, called keratopigmentation, is a safe procedure without any side effects on vision".
This claim is FALSE. Both eyecare professionals and the Spanish Society of Ophthalmology (SEO) advise against this procedure due to the dangers it could entail and a lack of studies showing that it is a safe practice.
Keratopigmentation is a safe practice that does not have any damaging side effects on vision.
Keratopigmentation or corneal tattooing is a cosmetic procedure that enables eye colour to be changed. According to the Spanish Society of Ophthalmology (SEO) and the clinic where the influencer claims she had this procedure done, "keratopigmentation is a surgical procedure whereby a micro tunnel is made in the cornea using a femtosecond laser – a laser commonly used for cataract surgery or corneal transplantation – after which a pigment is applied to cover the natural colour of the eyes". As the influencer describes, the procedure takes less than an hour, is painless and can be performed with just local anaesthesia.
Despite the fact that it is a practice carried out in Spain today, "there is no clear evidence of the complications that this procedure may cause", explains Jose Lamarca, assistant medical director and coordinator of the Anterior Segment and Refractive Surgery area at the Barraquer Ophthalmology Center in Barcelona, to Verificat. What's more, "this intervention makes it hard to diagnose potential eye conditions, given that the cornea is no longer transparent due to the pigment, preventing professionals from seeing any disturbance", Lamarca adds.
Two literature reviews on keratopigmentation, one from 2020 and another from 2022, show that the studies in the field are limited and they were conducted in a small groups of volunteers. Nevertheless, the reviews identify various risks and complications, such as perforations, corneal melting or erosions and post-surgery issues such as sensitivity to light, swelling, conjunctivitis, discolouration or epithelial defects.
Aesthetics and health
Keratopigmentation is a procedure that has been used for decades in patients with iris atrophy, blindness or other visual dysfunctions for both aesthetic and therapeutic purposes. "It is only used in eyes that are functionally unviable in order to improve patients' self-esteem" or to darken the area of the cornea in some cases of photophobia – i.e. the intolerance or discomfort that brightness causes in some people, explains Antonio Manuel Garrido, ophthalmologist of the University Hospital of the Virgin of Macarena in Seville and communication chair of the Andalusian Society of Ophthalmology, to Verificat.
According to some studies, in these specific cases, the practice may have various benefits such as recuperating a person's original eye colour or reducing photophobia. However, Garrido adds, even in these patients, this procedure is only justified in people with vision defects "who are unable to tolerate cosmetic contact or intraocular lenses, or in whom corneal transplant is contraindicated".
In addition to keratopigmentation, there is also the possibility of changing a person's eye colour with a laser. This cosmetic operation can cause various severe complications, including glaucoma, as a result of an increase in intraocular pressure secondary to the release of iris pigment produced by the laser. "It is a very dangerous operation", Lamarca explains, adding "we have seen patients develop blindness".